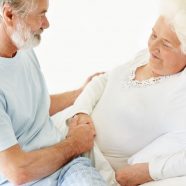 Oct

18
Tags
Related Posts
Share This
The Golden Years Shine Brighter When Our Home Becomes Your Home
The golden years can shine so much brighter when you live in the Sunshine state. Sunny days filled with friends, fresh-squeezed orange juice, and plenty of activities make it easy to understand why so many people choose to live here in the Venice Center Assisted Living. Here, surrounded by people who care, you can enjoy enrichment programs, cultivate fruit, walk the shaded pathways or sit and ponder life's meaning as you watch the koi play in the pond.
Remembering that you are an individual with specific likes and interests, Venice Center Assisted Living offers help with things like medication management and bathing while promoting your independence. Pick out your favorite blouse and we will help you to button up the back. Bring out your favorite chocolate chip cookie recipe and let us help you make a treat for everyone to enjoy. After all, this is your home.
Here, Bingo, cooking, art classes, meditation, and exercise are all part of the daily options to keep your mind sharp and your body healthy. Tables covered with pretty tablecloths add to the beauty of the dining room where healthy and delicious meals are served daily. Do you have a sweet tooth today? How about some soft-serve ice cream for dessert? The things that make a place seem homey are the things we strive for here.
Even at home, there are things to be taken care of, like doctor visits and trips to the beauty parlor. Here, our shuttle vans can take you shopping, to the doctor appointments, or for daily outings. There are a beauty parlor and barber chair onsite to keep you looking your best. We will take care of the cleaning and cooking. You just enjoy life. With amenities like therapy dogs, gazebos and Sunday BBQ's, that isn't hard to do.
For more information, visit A Banyan Residence.